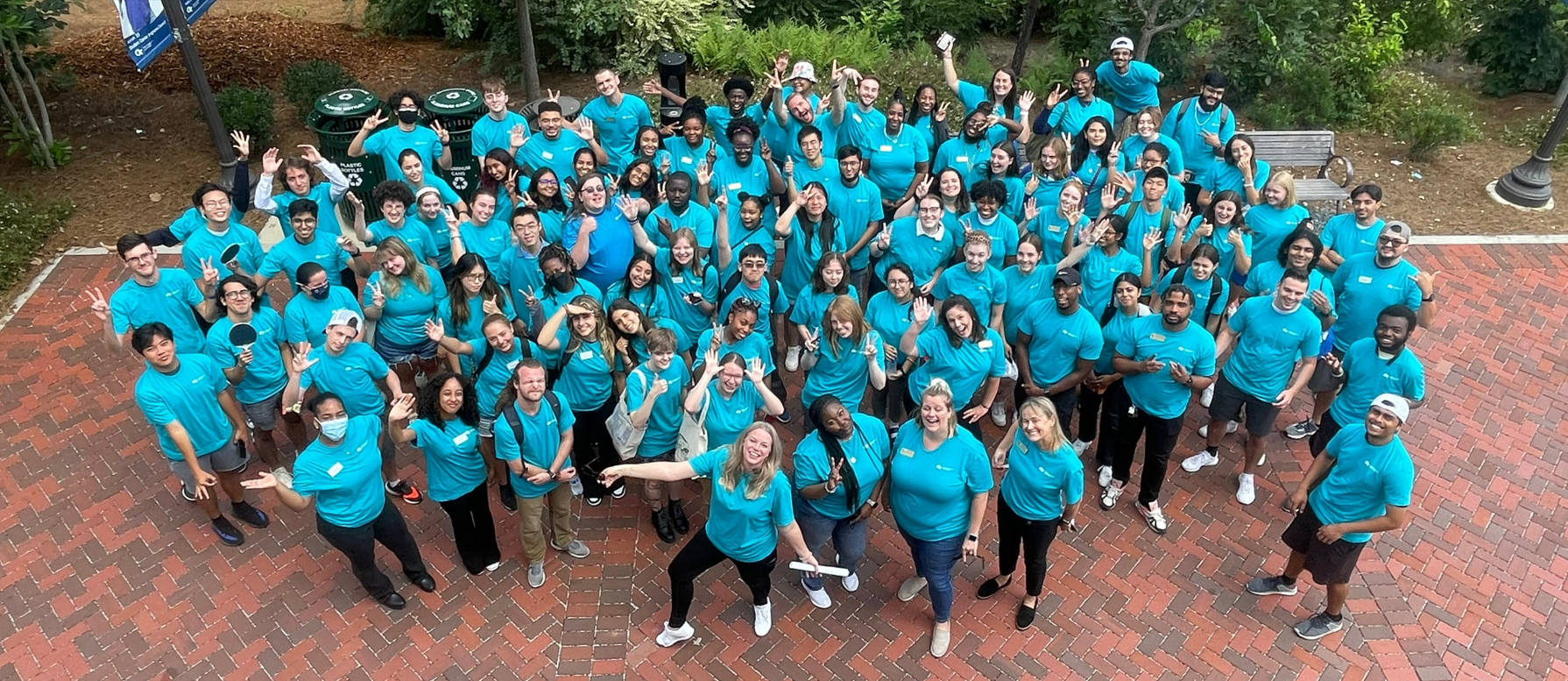 ---
Thank you for choosing the Student and Campus Event Centers, we look forward to the opportunity to work with you. Our student employees learn valuable professional skills and have a blast serving the campus community while they help us bring campus to life!
Each area of the Student and Campus Event Centers offers unique opportunities for students to build their professional skill set (while still having fun)! Below are the positions we typically hire for. Please note that not all positions will be hiring each semester.
Student and Campus Event Centers hires on a rolling basis based on current need. Students are welcome to apply and will receive information from our staff as we have positions available. 
---
About Our Hiring Process
Typically the Student Center hiring process takes place in October for spring hires and March for summer/fall hires. 
The process entails:
Learning more about our positions below
Holding in-person interviews
Selection and onboarding
For questions about the process, reach out to our Student Employee Experience Team at SEE@stucen.gatech.edu.
Administration Office Desk Assistant
Administrative Office Desk Attendants are the first line of communication with incoming visitors, phone calls, and inquiries regarding the Student Center.
Brand Marketing Assistant
The Brand Marketing Assistant helps promote the Student Center brand, create awareness of our services, increase traffic, and support community building initiatives.
Campus Tickets Assistant
Campus Tickets is a platform that allows student organizations, as well as departments across campus to sell and reserve tickets to their events. Student Assistants will respond to inquiries and work with groups to make their event attendance successful through Campus Tickets!
Events Services Assistant (ESA)
The Reservations Assistant coordinates with the building management to answer reservation inquires, assist with event logistics and process event paperwork.
Guest Services Manager (GSM)
Guest Services Managers (GSM) provide a full range of building services to meet student, campus department, and visitor needs.
Graduate Student Lounge Assistant
Assistants support the day-to-day operations of the new Graduate Student Lounge located in the John Lewis Student Center.
Information Desk Assistant
As the first point of contact for the campus community, Information Desk Attendants provide information about the Student Center, events, general campus questions, and directions.
Multicultural Lounge Assistant
Attendants support the day-to-day operations of the new Multicultural Lounge and Reflection Space located in the John Lewis Student Center.
Paper & Clay Attendant
P&C Attendants will support the day-to-day operations of the updated maker's space. Attendants will prioritize customer service and experiences by working with our large-scale printer and fulfilling print orders, maintaining our daily kiln schedule, and organizing regularly used tools and equipment.
Postal Assistant
Our Postal Assistants assist the campus community with parcel pick-up, deliver mail to student mailboxes, and process campus mail.
Tech Rec Attendant
Tech Rec Attendants are responsible for managing the front desk and helping customers with anything they need while visiting including reserving bowling lanes and billiards tables,  giving customers all equipment, managing payment transactions, and keeping the space clean and organized.
Campus Jobs
We know working for the Student Center isn't for everyone, but there are still many excellent opportunities to work across campus. To find a job elsewhere on campus, click below. The positions listed on the Campus Jobs Board are submitted to the Student Center Information Desk for posting by various hiring departments around campus. Contact information for each position can be found in the descriptions. They are NOT Student Center positions.
Post a Job
Submissions to the Campus Job Board can be made using the link below. Our team reviews submissions to the job board on Tuesdays and Thursdays only. Each position will remain on the Campus Job Board for two (2) weeks from the posting date. If you wish to post a job for a longer duration of time, you must resubmit your request to the job board. For questions, please email us.