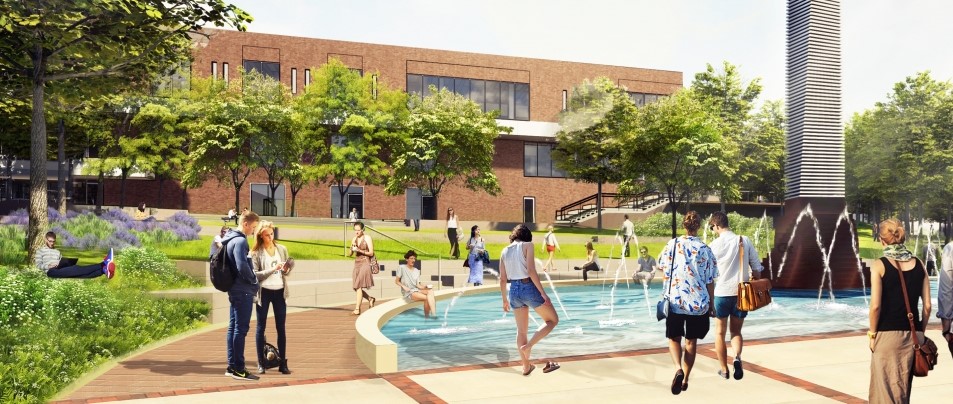 The newly renamed John Lewis Student Center and Stamps Commons has been closed for two years while the building is heavily renovated as part of the Campus Center Project. The new Student Center will include 11 dining concepts, including some returning favorites and new options. The third floor of the building will house several spaces for student resources that did not previously exist such as Reflection Space, Grad Student Lounge, and Multicultural Space. Additionally, the building boasts both a 150-seat and 298-seat theater that will support student events, admissions tours, and more.
Need Assistance?
Information Desk: (404) 385-4275
Guest Services Manager: (404) 894-9505
Student Center Administration Office: (404) 894-2805
Email: scinfodesk@mail.gatech.edu
Notary Services
Notary services are available to Georgia Tech students, faculty, and staff only. Please check back at the start of fall semester for information on notary service location, hours, and appointment availability.
Our Origins - The Fred B. Wenn Building
The Georgia Tech Student Center opened its doors in early 1970 as the realization of a dream and much effort on the part of Omicron Delta Kappa, a student honor society.  The state‐of‐the-art building, just under 100,000 square feet in size met the needs of the nearly 7,000 students enrolled at that time. Building services included a cafeteria, a music browsing room, Craft Center, ballroom, movie theater, meeting rooms, full‐service Post Office, an art gallery, chapel, table service dining area, and several lounges. Additionally, the original building housed a recreation area with twelve bowling lanes, a billiards room, table games, playing cards, and a video arcade.
The Olympic Period
The 1996 Centennial Summer Olympic Games brought a world of attention and media coverage to campus, and the Student Center served as the center of athlete services during the games. Several areas in the building were modified to meet the needs of the 15,000 athletes and the Atlanta Committees for the Olympic Games.
Notable Facility Changes
To meet the overwhelming demand for lunch in the Food Court, an outdoor patio was enclosed in 1986 to create a 4,000 square foot, 350 seat Greenhouse dining room. In 1987, the Post Office was expanded with a 6,000 square foot addition to accommodate 15,020 mailboxes, nearly doubling the number of boxes previously available. In 1997, the Ballroom was expanded into 1,500 square feet of adjacent storage and patio space and was fully renovated to accommodate larger campus events. The Stamps Student Center Commons was completed in March of 2004 and was fully occupied and dedicated in August.  Services included 4 dining concepts, SGA and Student Involvement Offices, ​6 meeting spaces, numerous lounges, a central performance stage, and retail services. In the Fall of 2010, a new "fast‐food" Food Court in the Commons was built.  The new line‐up offers a full‐service Chick‐fil‐A (relocated from the 2nd floor Food Court), Subway, and Panda Express. 
Campus Life Origins
Many of Georgia Tech's most beloved programs and traditions began in the Student Center. Staring with the building's opening in 1970 and continuing today, many treasured programs, such as Community Service Programs, FASET (Familiarization and Adaptation to the Surroundings and Environs of Tech), ORGT (Outdoor Recreation Georgia Tech), OPTIONS (student run non-credit courses), GT Edge (peer mentoring program designed to support incoming students), and more were created by Georgia Tech students. As the Student Center grows, its student-led origins will drive its future.
Campus Center Project
Visioning Process
In the last visioning exercises, members of the campus community were invited to consider how different building profiles might fit within the larger campus landscape appropriately. They were then asked to define what the spatial relationships should be between various offices, services, and activities should be in the future buildings using a 3-D puzzle.
Referendum Voting
Total Voter Participation | 5,025 students
Undergraduate Votes | 4,081 students (2,980 in favor, 1,101 opposed)
Graduate Votes | 944 students (350 in favor, 594 opposed)
Ideas Competition 
Due to the nature of the ideas competition, the Georgia Tech community was able to review the ideas from three teams and select aspects from any proposal to include in the winning team's final design. Hundreds of students, staff and faculty responded to the survey about each proposal.
Phase 1
Completion of Phase I, which includes includes the Pavilions and Exhibition Hall
Phase 2 
Construction on Phase II begins, which includes the renovation of the Student Center and reconfiguration of the Campanile plaza.
Completion of Campus Center
Student Center Directors
Tim Mitchell from 1970 – 1973
Roger Wehrle from 1974 – 1992 
Rich Steele from 1992 – 2010 
Dr. Kim D. Harrington from August 2010 – 2015
Dr. Lindsay Bryant from 2016 – present
Staff longevity has been a hallmark of the Student Center with numerous staff ending their careers upon retirement from Georgia Tech. This trend continues as several current staff members have 20+ years of service.