L to R: Jared Abrahamian, Kendall Via, Grayson Nour, Sam Auborn, Aimée Ogando, Amanda Johnston, Isabelle Gustafson, T.J. Middlebrooks
Ramblin' Royalty's Journey of Progress and Service
Homecoming week at Georgia Tech is a cherished time for both alumni and current students, as they come together to celebrate achievements, reminisce on the past, create new memories, and collectively shape a brighter future. An esteemed tradition, Rambling Royalty, not only celebrates the university's rich history but also provides an opportunity for the current students to showcase their commitment to Georgia Tech's motto of progress and service. 
According to Amanda Johnston, a 2023 Ramblin' Royalty finalist, "I remember my first year when I came to Tech, I was looking through Instagram and when I saw the girl who had won, at that time Ms. Georgia Tech, I called my mom and was like I'm going to be that one day." The scholarship program, previously known as Mr. and Ms. Georgia Tech, changed its name last year to remove gender-specific references from its title, an approach that embraces inclusivity for the entire student community.  
The Ramblin' Royalty selection process, led by Student Center Programs Council (SCPC) within Student Engagement and Well-Being (SEWB), begins with nominations from student organizations. The top candidates then participate in multiple interviews before being selected as a finalist. The 2023 finalists, Aimée Ogando, Amanda Johnston, Grayson Nour, Jared Abrahamian, Isabelle Gustafson, Kendall Via, Sam Auborn, and T.J. Middlebrooks, then hand the process back over to their fellow students for final voting.
When asked what it means to be chosen as an ambassador of Georgia Tech, these finalists humbly characterize it as an honor. "It's about the representation that I am giving to the Hispanic community on campus and people that I have connected to on campus throughout my three years here. It's truly an honor of a lifetime," expressed Aimée Ogando, current president of the Society of Hispanic Professional Engineers. Similarly, TJ Middlebrooks, president of Theta Xi, said, "To make it this far is such an honor but even just to be considered is such a blessing. I was nominated by my fraternity and to have 100 guys realize that I could be representative of them, to be an ambassador for the school, is absolutely amazing."
These nominations serve as a testament to their academic pursuits, campus engagement, and leadership roles not only within campus but also on a global scale. As a campus tour guide and previous vice president of the Invention Studio, Isabel Gustafon is passionate about guiding students as they seek to find their communities on campus. "Whether it's finding a home in a student organization like the Invention Studio or finding a home at Georgia Tech as a whole and, hopefully, giving them the chance to have the same experience I've had here, has been beyond incredible," said Gustafon.
Kendall Via and Jared Abrahamian are engaged in Tikkun Olam Makers (TOM), an organization that gives students the opportunity to make medical devices for individuals with underserved needs. Through TOM, Jared helped to design a mobility support device for a child with cerebral palsy. "We not only created the device but also personally delivered it to the family. Witnessing the direct and positive impact on their lives was truly remarkable," said Jared Abrahamian. Kendall also helped create a new device, recalling "the most rewarding experience was knowing that I'm helping Tech have an impact all over the world but also just seeing everyone's reactions when we presented them the devices that students had made just really made my day."  
Sam Auborn is passionate about raising awareness and prevention of sexual violence on campus. He has been a VOICE Peer Educator for three years, continuously working towards building a stronger culture and dialogue of respect among the campus community. When asked what a Ramblin' Royalty nomination means to him, Sam said, "being nominated for Ramblin' Royalty honestly means the world… It's proving to me that everything I've done has made its mark and impact on campus." 
As they strive to make a lasting impact, Ramblin' Royalty finalists also acknowledge that their communities, in turn, have made a lasting impact on them. "One of my favorite parts about being a Georgia Tech student is just when I think I have it down, or I am even slightly comfortable, Georgia Tech pushes me out of my comfort zone," said Grayson Nour. "Because of this, I am a better student, leader, friend, classmate, teammate, and an overall better person." 
All Ramblin' Royalty finalists gathered at Bobby Dodd Stadium at Hyundai Field during halftime of the Yellow Jackets homecoming football game. Alongside their families and in front of fellow students, alumni, and fans, Amanda Johnston and Aimée Ogando were announced as the 2023 Ramblin' Royalty honorees! Please join us in celebrating all finalists' and honorees' commitment to service and progress at Georgia Tech. You can learn more about each of the finalists and honorees below. 
L to R: President Ángel Cabrera, Amanda Johnston, Aimée Ogando, Beth Cabrera
Blank Space (small)
(text and background only visible when logged in)
Aimée Ogando
Civil Engineering
Spring 2024
Society of Hispanic Professional Engineers, president; Office of Minority Educational Development, Edge Mentor and Challenge Counselor; Hispanic Recruitment Team; Undergraduate Student Advisory Council for Civil and Environmental Engineers; SMILE; 2022 FASET Cabinet Member
Amanda Johnston
Chemical and Biomolecular Engineering
Fall 2024
Resident Assistant; Student Government; Georgia Tech Tour Guide; Junior Representative in Undergraduate House of Representatives; Chemical Engineering Ambassador; First-Year Activities Board Advisor; Society of Women Engineers; Honors Program LLC; Zeta Tau Alpha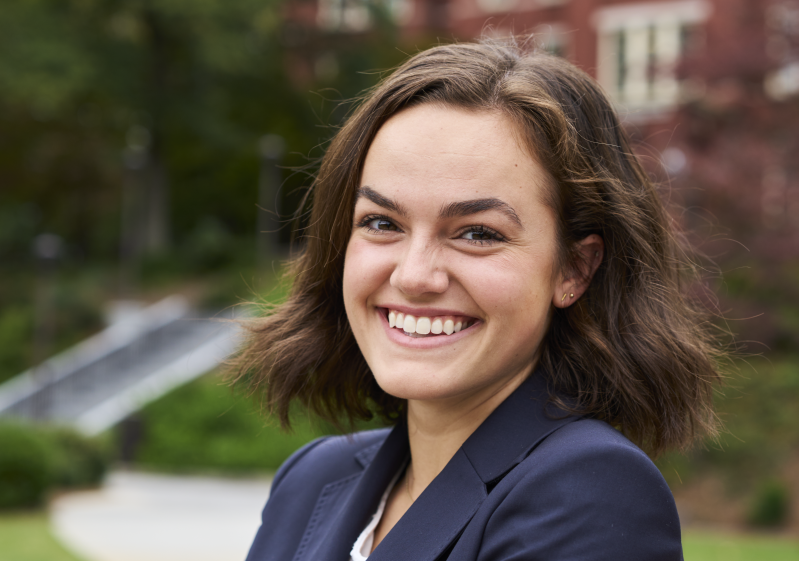 Grayson Nour
Pre-Med Chemistry
Spring 2024
Alpha Gamma Delta Sorority; Tour Guide and FASET Orientation Leader; Women's Club Soccer Team; Chemistry Laboratory Teaching Assistant
Isabelle Gustafson
Mechanical Engineering
Spring 2024
Invention Studio; Theme Park Engineering and Design Club; Alpha Gamma Delta; Woodruff School of Mechanical Engineering and College of Engineering, Student Advisory Boards; Georgia Tech Tour Guide
Jared Abrahamian
Architecture
Spring 2024
Denning Technology & Management Program; Georgia Tech Alumni Association Student Ambassador; Tikkun Olam Makers; Georgia Tech Student Foundation's Investments Committee; Digital Fabrication Lab; Structure and Materials Laboratory
Kendall Via
Biomedical Engineering
Spring 2024
Zeta Tau Alpha; Tikkun Olam Makers, Fellowship Program; Heart of Passion (first collegiate chapter of the nonprofit), founder
Sam Auborn
Chemical and Biomolecular Engineering; Electrical Engineering
Spring 2025
Ramblin' Reck Club; VOICE Peer Educator; Joint Sexual Violence Advisory Committee Chair through SGA; Delta Chi
T.J. Middlebrooks
Business Administration
Spring 2024
Theta Xi Fraternity, president; Scheller Business Ambassador; Sports Business Club; Yellow Jacket Club; Georgia Tech Student Alumni Association; Georgia Tech Athletic Association's Creative Media Team